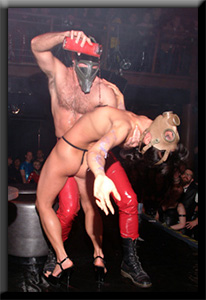 The Crow Academy, so named after Native American and Eastern European legends which describe The Crow as the "Bringer of Law and Discipline," was first created in the 1990's. The founder, Master Arcane, envisioned a haven and school for those seriously interested in exploring the S&M Arts. The Master believed that anyone genuinely intent on being trained properly should have the opportunity to learn about and appreciate D/s and BDSM as Art Forms. Whether a student's interest was in the short-term exploration of BDSM toys and techniques, the joys of immersing into long-term Submission, or the Honorable and Artistic study of Domination, Master Arcane set forth to provide a school where students could learn at the highest octave of personal responsibility and meaning. The Crow Academy style is based on the cornerstone that Domination & Submission, BDSM, and Fetish Performance Art should all revolve around Passion and Romance. From the softest feather to the most intense whip, The Crow Academy teaches that the entire experience is all about the Dom and the sub blissfully sharing a powerful CONNECTION.
The Crow Academy, now heading towards its third incarnation, has always provided a large, tranquil, private abode with its own exquisite, velvet-lined "dungeon" or Play-Room. Dedicated to exalting the principal of BDSM as an Erotic Art in every corner, every room, and every moment, Crow Academy Training encompasses what both Eastern and Western paths have called "The Four Bodies:" the Mental, the Emotional, the Physical, and the Spiritual. Students learn not only about the Fetish Arts, but also a great deal about achieving a high level of fitness and health, about the power of their own mind, about inner calm, and about inner strength. All courses are based on the student's own desires and aptitudes, with the Master placing an intense emphasis on Communication so that all limits can be voiced, understood, and respected. The Crow Academy absolutely supports the SSC (Safe, Sane, Consensual) as well as RACK (Risk Aware Consensual Kink) ideals with a particularly strong emphasis on Safety.
In His teachings, Master Arcane proves that values like Trust and Honesty are very real cornerstones in any kind of relationship, and especially in the world of D/s. He teaches how every individual is unique, and that no two Fetishists are exactly alike. At The Crow Academy, training is celebrated as a completely alchemical experience custom tailored for each and every student. It is Master Arcane's firm belief that every Fetishist should live up to their truest nature: Dominants should receive expert training in Honorable Domination, submissives should be trained in and fulfilled by perfect Submission, and Switches learn to find their own unique, individual balance between the two.
As the saying goes, all work and no play leads to a dull life, and so The Master emphasizes the need to laugh and enjoy life as well. At the San Francisco Crow Academy, outside of training students often relaxed out in the fragrant, private garden, either in the hot tub which was heated year round, or by sunbathing during the warmer months. Equally, a wide variety of entertainments, a reading library, and an in-house cook added together to create a healthy and vibrant atmosphere with enough diversions to suit any palate. As the Master teaches every student, being able to relax and laugh with your Dominant or your submissive is just as important as the most precise Protocol.
The lessons of The Crow Academy are based on Traditions handed down by word-of-mouth and obscure texts, thereafter blended and refined through Master Arcane's personal emphasis that all techniques be utilitarian. Master Arcane does not claim that every technique was invented by The Crow Academy, but rather that through decades of Real World trial & error these techniques have been re-forged into a Modern, Unique System that WORKS, namely The Crow Academy. Master Arcane personally explored into the depths of BDSM & D/s, separating the wheat from the chaff so that students of The Crow Academy can benefit from the road map He created as a result.
It would nonetheless be against the beliefs of The Crow Academy to claim that this style is "the absolute best" or "ultimately superior to all others." Master Arcane very much appreciates & applauds other styles of BDSM and D/s that are equally evolved and equally invested in presenting BDSM as an Art Form. The Crow Academy style in particular centers around Romance & Connection with one's partner, generating the very best Relationship possible within the BDSM and D/s environment. It is very much about Love, Energy, and Art. Above all, students are taught that there is no upper limit to the Excellence one can achieve in this world, and no limit to the depth of the Connection two people can create together.
When an aspirant concludes their studies at The Crow Academy they inevitably leave as a stronger, more self-assured individual. Their mind is expanded, their body is healthier, and their spirit shines. Wherever they go in their pursuit of the BDSM / Fetish Arts or in their explorations of the Fetish Universe in it's endlessly multifaceted paths, their smallest expression conveys worlds of depth and understanding.
The Crow Academy is a living example of a school of the BDSM and D/s Arts where ancient traditions and techniques within the BDSM Universe dating back hundreds or even thousands of years are resurrected and utilized right along side the best of contemporary techniques. Principals such as Formal D/s Etiquette and a High Protocol emphasis are maintained as standards, and perfection of oneself is a never-ending process. The Crow Academy philosophy believes that there is no end to what a person can learn, and no end to how much a person can grow. There is always some new avenue to be explored and even in its most intense moments, life is still quite an adventure.
With offices in the United States and Australia, we at The Crow Academy are happy to negotiate arrangements to Bring our Professional Services and Shows to any Location Around The Globe.
The Crow Academy is open to all seekers of knowledge in the BDSM and Fetish Arts.
The Following Crow Academy Professional Services are All Fully Available: