Crow Academy Publishing produces elite educational materials for all seekers of knowledge within the BDSM Arts and the subject of Romantic Domination and Submission….
The First Book from The Crow Academy has Arrived!
IGNITING THE FIRE: The Art of Romantic Submission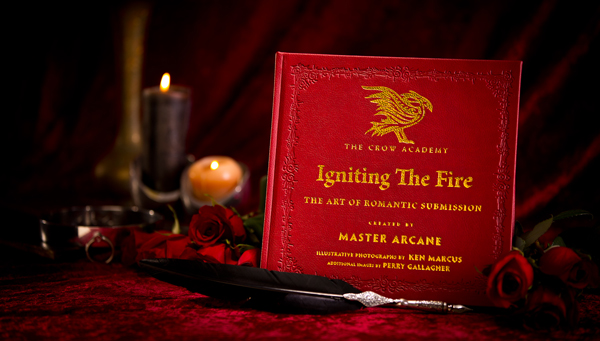 (click on the image above to go directly to Amazon)
Are You Ready To Live Your Dream BDSM Relationship?
IGNITING THE FIRE: The Art of Romantic Submission
is your Complete A-Z Guide to EXCEPTIONAL Dominant and Submissive Relationships.
With more than 30 years Living the Master-slave Lifestyle and having performed and taught BDSM and Romantic Domination & Submission classes on 4 Continents, Master Arcane personally guides you as you learn everything you need to know to create the Romantic Dominant-Submissive Relationship of Your Dreams.
Inside this 372 page tome of tried-and-true KNOWLEDGE, you will find over 200 photos by the World Famous fetish photographers Ken Marcus and Perry Gallagher to show you IN DETAIL how to perform every action and clearly learn each and every lesson step-by-step.
(* superior quality imitation leather)
Prefer Ebooks?
"Igniting The Fire: The Art of Romantic Submission"
is also available as an Fully-Indexed Ebook with
100% of the Beautiful Photos to ensure every point is crystal clear to understand.
Ebook also sold in All Major Ebook Vendors such as…
(click on the name of your favorite Ebook vendor to be taken directly to their page)
---
---
MORE ABOUT THE VERY FIRST BOOK in
THE CROW ACADEMY INSTRUCTIONAL SERIES…
IGNITING THE FIRE: The Art of Romantic Submission
Enter the world of the Passionate Intertwining of Souls known as Master & Slave.
Protocols…Etiquette…Signals…Style…KNOWLEDGE.
IGNITING THE FIRE is dedicated to the VERY REAL WORLD of Romantic Domination and Submission. Although the book is written from Master Arcane's Male-Dominant / female-submissive perspective, the lessons in the book are all intentionally presented to be easily juxtaposed for ANY Gender combination and ANY Role combination.
Written from Master Arcane's 100% REAL WORLD EXPERIENCE, this is Your Invitation to sit with The Master and venture with him Down The Most Elegant Rabbit Hole into a world where Fantasies are Brought To Life, Honor is Unmistakable, Grace & Poise are Exalted, and Souls Dance Together in a Passionate Embrace. It is Your Invitation into a very genuine Wonderland lined in Velvet and Leather, Sense and Sensuality, where the air you breathe contains Dreams become MANIFEST.
Throughout every word you read and image you see, Master Arcane keeps it Down-To-Earth, grounding every lesson in the Realities of Daily Life. The Crow Academy Style is deeply invested in bringing very tangible ROMANCE into your life as Dominant and Submissive together, and helping you grow with each other into a Finely-Tuned D/s Dance. Your senses will tingle as you explore the Sensual Style of The Crow Academy, while Master Arcane guides you through Every Step required to achieve a Superior Connection as Dominant and Submissive.
As Master Arcane often says:
"At The Crow Academy we do not teach people how to be merely functional in their D/s;
We teach them how to be EXCEPTIONAL.
We do not just teach people how to simply become Dominant and Submissive with each other;
We teach them how to become Finely Tuned Companions."
IGNITING THE FIRE: The Art of Romantic Submission contains more than 200 FULL COLOR PHOTOS by the world renowned photographer KEN MARCUS whose visual precision illustrates the lessons, along with dozens Beautiful D/s Imagery Photos created by the magnificent photographic talent of PERRY GALLAGHER.
BUT THIS IS NOT JUST A BOOK…
THE 30 MINI HOW-TO VIDEOS
Click Here for More Information
During the course of taking the photos for the book, 30 minutes of HOW-TO video footage was simultaneously filmed to create a series of 30 Short Instructional Videos designed to complement the book. Starring the same Dominants and Submissives as seen in the book, these videos show you in even greater detail the exact ways to perform many of The Crow Academy techniques that you've read about in the book with absolute precision. You will find video clips demonstrating how to properly perform The Crow Academy Slave Positions, Hand Signals, Protocols, and Physical Etiquette. Master Arcane personally choreographed every second of the footage for the Videos to ensure that the material produced is 100% accurate, absolutely genuine, easy to comprehend, and particularly pleasing to the eye…. available as a separate purchase in The Crow Academy Store.
THE LEATHER BOUND COFFEE TABLE EDITION
Click Here for More Information
Finally fans of The Crow Academy have the opportunity of owning the Beautiful, LEATHER BOUND (superior quality imitation leather), Hardback Coffee Table Edition of IGNITING THE FIRE: The Art of Romantic Submission. This Unique *Limited Edition* of our flagship book was printed entirely on ultra-high-quality, Photo-Realistic paper throughout so that every one of the 200+ photos is shown at its very best. Most importantly however is that every single page is Illustrated with Gorgeous Background Art. Only this Limited Hardback Collectors Edition contains the Universal Background Art and the photo-quality paper… the way the book was always meant to be seen. …. available on Amazon.com
THE ART OF THE EXCEPTIONAL RELATIONSHIP
ALL Crow Academy Materials exist to establish Consensual, Romantic, Formal Domination & Submission (aka High Protocol, High Etiquette D/s), as a Safe, Meaningful, and Conscientious Relationship between Loving Adults. Above all, in ALL Crow Academy Materials you will See, Feel, and Learn how BDSM and Domination-Submission is an ART FORM which has the power to passionately uplift two people – the Dominant and the Submissive – into an incredibly Deep Connection that most other kinds of relationships will only ever dream about.
---
Be sure to SIGN UP on The Crow Academy Newsletter List to get notified about all Crow Academy Books, Videos, Classes, Seminars and BDSM Educational Products from Master Arcane and The Crow Academy by
CLICKING HERE
where you can add your email to the 100% Private list.
Upon signing up for The Crow Academy Newsletter you will also receive our
FREE 20 Page Ebook, "The Crow Academy Guide To Getting Started In Domination & Submission."