Below you will find a variety of photos where every knot, every turn of the rope, every gag, and every restraint was orchestrated and tied personally by the hand of Master Arcane. With a lifetime of experience tying knots (having started when he was quite young, and yes he was a boy-scout), Master Arcane's talents in the world of bondage have been sought out by Photographers, Videographers, and Filmmakers alike. Master Arcane likes to combine bondage styles both common and exotic to produce a very strongly secured look and a variety of different aesthetics. His theory is that all bondage, even that which is merely decorative, should also be functional — no matter what mood is being created, it should always genuinely RESTRAIN in some fashion.
Master Arcane's Services as a Bondage Rigger are Available
for your Photographic, Video, or Film Productions
Fees are negotiable based on the Production values. To contact Master Arcane in regards to Bondage Rigging for your production, use the Contact Form on the Home Page, or by clicking on the button at the bottom of this page.
Deeper…
If you would like to personally experience the Bondage skills of Master Arcane in a private session, or if you otherwise desire to explore deeper into The Crow Academy and learn first hand from the Master about the exquisite experience of Domination and submission, you can commence your journey by clicking on the "Deeper…" button on the home page.
(All models for the photos below are 18 years or older; proof on file with the appropriate Photographer or Studio)
Each thumbnail below leads to a separate set of larger photos of the given model in a variety of rigging variations which you can scroll through vertically.
---
Fetish Model – Ginger Savage
Photographed by Ken Marcus
Fetish Model: Ginger Savage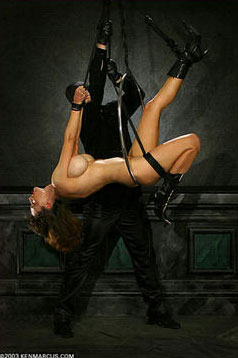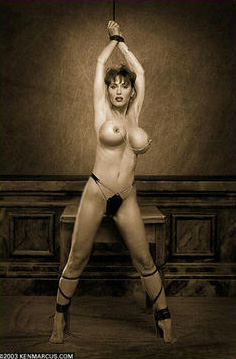 Read Ginger Savage's and
other testimonials:
Here »
.
---
KinkInc Studios
---
Various Models & Shoots