The First Book of The Crow Academy is Out Now!
IGNITING THE FIRE: The Art of Romantic Submission
Finally! Here's How You Can Bring To Life Those Naughty
'50 Shades' Fantasies Your Mind Can't Stop Thinking About!
It Is Time To Stop Imagining Being Sexually Dominated
and Start Experiencing This Delicious World For Real!
IGNITING THE FIRE: The Art of Romantic Submission

by Master Arcane
Step Into a Secret Life Where a World-Renowned BDSM Master Reveals: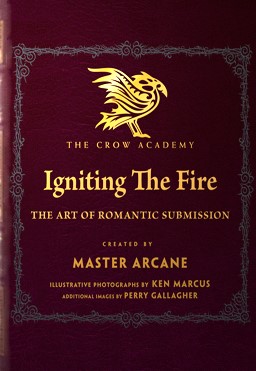 IGNITING THE FIRE: The Art of Romantic Submission contains more than 180 beautiful photos by world famous photographers KEN MARCUS and PERRY GALLAGHER. Ken's visual precision perfectly illustrates the Lessons, while Perry's eye adds a gallery of additional Beautiful D/s Imagery.
THE ART OF THE EXCEPTIONAL RELATIONSHIP
ALL Crow Academy Materials exist to establish Formal Domination & Submission, aka "Formal D/s," as a Safe, Meaningful, Conscientious, Deeply Connecting Romantic Relationship. Above all, in ALL Crow Academy Materials you will see, feel, and learn how D/s is an Art Form with the power to passionately uplift two people — the Dominant and the Submissive — into an incredible connection that most other kinds of relationships will only ever dream about.
As Master Arcane often says:
"At The Crow Academy we do not teach people how to be merely functional in their D/s; We teach them how to be EXCEPTIONAL. We do not just teach people how to become a Dominant and a Submissive; We teach them how to become Finely Tuned Companions.
MORE ABOUT THE FIRST BOOK in THE CROW ACADEMY INSTRUCTIONAL SERIES….
IGNITING THE FIRE: The Art of Romantic Submission
Enter the world of the Passionate Intertwining of Souls known as Master & Slave….
Protocols... Etiquette... Signals... Style... KNOWLEDGE.
IGNITING THE FIRE is dedicated to the VERY REAL WORLD of Romantic Domination and Submission. Although the book is written from Master Arcane's Male-Dominant / female-submissive perspective, the lessons in the book can intentionally be juxtaposed for ANY Gender and ANY Role combination.
Written from Master Arcane's 100% REAL WORLD EXPERIENCE, this is Your Invitation to join The Master Down The Rabbit Hole in a world where Fantasies are Brought To Life, Honor is Unmistakable, Grace & Poise are Exalted, and Souls Dance in The Most Elegant Embrace. It is Your Invitation into a very genuine Wonderland lined in Velvet and Leather, Sense and Sensuality, where the air you breathe contains the Scent of Dreams become MANIFEST.
Throughout every word you read or image you see, Master Arcane keeps it REAL. His style as a Master and the emphasis of The Crow Academy are deeply invested in bringing very tangible ROMANCE into the lives of the Dominant and the submissive. Your senses will tingle as you wander through the clear and elegant Style of The Crow Academy, while Master Arcane guides you through All The Steps required to achieve a Superior Tuning as Dominant and submissive.